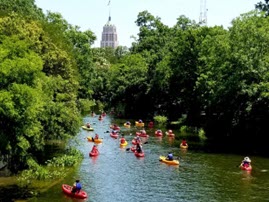 Optional Touring Activity Individual Sponsorship
Mission Adventure Kayaking Tour
Enjoy a guided kayaking tour along the famous San Antonio River as it winds through the historic King William's District. This may be one of San Antonio's little-known secrets. Nice easy relaxing time down the San Antonio River surrounded by lush greenery throughout and wildlife of various kinds of birds, ducks, and turtles. A wonderful easy 2-mile flat-water kayak trip which is great for all level of kayakers. After the kayaking activity, guests will enjoy lunch at Blue Star Brewery.
A continental breakfast and registration will run from 8:15-9:00am, we will depart the hotel at 9:00am. We will return to the hotel by 2:00pm. Beverages and lunch provided on the tour. Pre-registration required.
Please join the HealthPoint Executives for the Mission Adventure Kayaking Tour on Sunday, September 10, 2023..
A $320 Optional Touring Activity Individual Sponsorship Includes:
Tour fee for (1) one individual from your company
Continental Breakfast prior to departure
Snacks/Water
Lunch
Terms & Conditions
Yes, I would like to participate in the Optional Touring Activity and agree to pay the sponsorship fee. Note: When you click submit, your credit card will be charged for the amount shown at the bottom of the page. You may cancel your participation up until 30 days from date of play – inside that window you will be responsible for the fee in full.
This activity will commence rain or shine, and is first come, first served.
We are unable to guarantee HealthPoint Executive participation.
Please be aware. If you use your browser autofill in this form, your name will be filled in all Name Fields