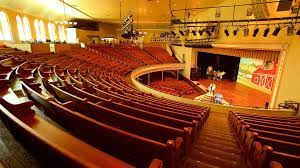 Optional Touring Activity Individual Sponsorship
Ryman Auditorium Guided Tour
What began as the Union Gospel Tabernacle constructed by steamboat Captain Thomas Ryman as a place where all could gather and worship, is now recognized as one of the best performance halls in the world, the stage where bluegrass was born, the 'Mother Church of Country Music,' and a place where both artists and fans come to experience that sacred, intimate something that one feels in their bones at this iconic landmark. Call it spiritual, call it mythical, call it the abundance of music, history and magic that happens every week from this stage. The Ryman is where pop culture lives. Where history is made. Where legends perform. And where music lovers belong. Ryman Auditorium is a bucket list experience for artists and audiences alike. Experience a venue as iconic as its performers! A continental breakfast and registration will run from 7:30-8:15am, we will depart the hotel at 8:15am. We will return to the hotel by 12:30pm. Beverages on board the trolley and lunch included. Pre- registration required.
Please join the NextPoint Executives for the Ryman Auditorium Guided Tour on Sunday, October 1, 2023.
A $270 Optional Touring Activity Individual Sponsorship Includes:
Tour fee for (1) one individual from your company
Continental Breakfast prior to departure
Snacks/Water
Lunch
Terms & Conditions
Yes, I would like to participate in the Optional Touring Activity and agree to pay the sponsorship fee. Note: When you click submit, your credit card will be charged for the amount shown at the bottom of the page. You may cancel your participation up until 30 days from date of play – inside that window you will be responsible for the fee in full.
This activity will commence rain or shine, and is first come, first served.
We are unable to guarantee NextPoint Executive participation.
Please be aware. If you use your browser autofill in this form, your name will be filled in all Name Fields