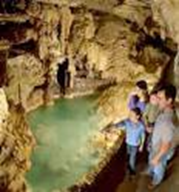 Optional Touring Activity Individual Sponsorship
Natural Bridge Caverns Tour
Arrive at Natural Bridge Caverns and be escorted to The Pavilion overlooking Discovery Village. They will then enjoy Texas' LARGEST cavern system and partake in the Discovery Tour. This tour will take you 180 feet below the surface of the earth to see amazing formations (some from floor to ceiling). With the only LED lit cavern in North America, this journey will be seen in an entirely different light. After exploring Texas' LARGEST cavern, take a challenge on the Amazn' Ranch Roundup. Texas' LARGEST outdoor maze with over 5,000 square feet of twists and turns. A continental breakfast and registration will run from 8:30-9:15AM, we will depart the hotel at 9:15AM. We will return to the hotel by 1:30PM. Beverages and lunch provided on the tour. Pre-registration required.
Please join the C-BuildPoint Executives for the Natural Bridge Caverns Tour on Sunday, October 15, 2023.
A $310 Optional Touring Activity Individual Sponsorship Includes:
Tour fee for (1) one individual from your company
Continental Breakfast prior to departure
Snacks/Water
Lunch
Terms & Conditions
Yes, I would like to participate in the Optional Touring Activity and agree to pay the sponsorship fee. Note: When you click submit, your credit card will be charged for the amount shown at the bottom of the page. You may cancel your participation up until 30 days from date of play – inside that window you will be responsible for the fee in full.
This activity will commence rain or shine, and is first come, first served.
We are unable to guarantee C-BuildPoint Executive participation.
Please be aware. If you use your browser autofill in this form, your name will be filled in all Name Fields