Featuring leading speakers from within and outside of the Industry, the Content Sessions bring you actionable and inspiring insight delivered on trends, opportunities, skills, best practices and personal growth; providing you with the means to inspire innovation, leadership and growth for you and within your own organization. Please visit frequently to see the details as they are added.

sunday, february 9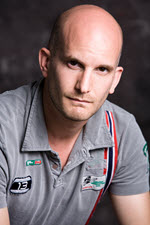 Leon Logothetis
6:00pm – 6:45pm
Opening Keynote: The Kindness Diaries
Overview:
Finding ways for your inner rebel (that voice that tells you, you are worth so much more than you think) to come out and play.
The inner rebel tells you that your life is yours. And anything you dream of is possible. Anything. And that the fuel for all this delicious potential is simple: Kindness and harnessing the power of human connection. And. Doing it all with a smile on your face and a spring in your step!
BIO:
Leon Logothetis
Global adventurer, motivational speaker, & author/creator of the book and Netflix show, The Kindness Diaries.
Leon Logothetis is a global adventurer, motivational speaker & philanthropist. It wasn't always that way. He used to be a broker in the city of London where he felt uninspired and chronically depressed. He gave it all up for a life on the road. This radical life change was inspired by the inspirational movie The Motorcycle Diaries
His show The Kindness Diaries is streaming on Netflix! His books, Amazing Adventures of a Nobody, The Kindness Diaries and Live, Love, Explore: Discover the Way of the Traveler a Roadmap to the Life You Were Meant to Live, published by Readers Digest, are in stores now.
monday, february 10
Lisa Feierstein
Senior Trend Strategist, TrendWatching
1:30pm – 2:10pm
ViewPoint: What's In-Store for 2020 and Beyond: 5 Trends & Opportunities
Overview:
Lisa Feierstein will scope five opportunity rich trends that will impact specialty retail for 2020 and beyond. A-COMMERCE, AUTOMATION THEATER, VILLAGE SQUARED, GREEN PRESSURE AND SENTINENT SPACES. She will be breaking down what's driving each trend forward and provide inspiration on how your brand can leverage it.
BIO:
Lisa Feierstein
Senior Trend Strategist, TrendWatching
Lisa Feierstein is a trend expert, professional speaker, workshop facilitator, and writer of TrendWatching's Innovation of the Day daily email newsletter, with 100,000+ subscribers and counting: Lisa leads the team in hand-picking fascinating innovations from around the world and diving into their deeper implications – how they can help us understand consumers and be applied to any organization. She has delivered keynotes, workshops and trend-driven insights for clients including: Mastercard, Spotify, Vans, Timberland, Hyundai, A&E, Marriott, Intuit, Lee, Wrangler, and The North Face.