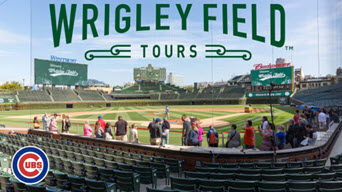 Optional Touring Activity Individual Sponsorship
Wrigley Field Tour
You will experience the beauty, charm and historic features fans have come to know and love, all while learning about our majestic ballpark that has captivated baseball fans for more than 100 years. Exclusive Tour of Wrigley Field to include Dug out, Field, Upper Deck, Bleachers, Outfield "Every baseball fan must go see Wrigley"! A continental breakfast and registration will run from 9:00-9:45am, we will depart the hotel at 9:45am. We will return to the hotel by 2:00pm. Lunch at the stadium included. Pre-registration required.
Please join the RestaurantPoint East Executives for the Wrigley Field Tour on Sunday, October 1, 2023.
Sorry! Wrigley Field Tour is full. Please contact Gail Garrison to be put on the waitlist.