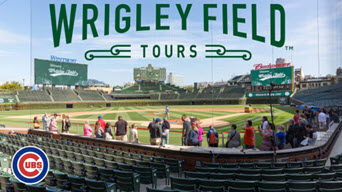 Optional Touring Activity Individual Sponsorship
Wrigley Field Tour
You will experience the beauty, charm and historic features fans have come to know and love, all while learning about our majestic ballpark that has captivated baseball fans for more than 100 years. Exclusive Tour of Wrigley Field to include Dug out, Field, Upper Deck, Bleachers, Outfield "Every baseball fan must go see Wrigley"! A continental breakfast and registration will run from 9:00-9:45am, we will depart the hotel at 9:45am. We will return to the hotel by 2:00pm. Lunch at the stadium included. Pre-registration required.
Please join the RestaurantPoint East Executives for the Wrigley Field Tour on Sunday, October 1, 2023.
A $290 Optional Touring Activity Individual Sponsorship Includes:
Tour fee for (1) one individual from your company
Continental Breakfast prior to departure
Snacks/Water
Lunch
Terms & Conditions
Yes, I would like to participate in the Optional Touring Activity and agree to pay the sponsorship fee. Note: When you click submit, your credit card will be charged for the amount shown at the bottom of the page. You may cancel your participation up until 30 days from date of play – inside that window you will be responsible for the fee in full.
This activity will commence rain or shine, and is first come, first served.
We are unable to guarantee RestaurantPoint East Executive participation.
Please be aware. If you use your browser autofill in this form, your name will be filled in all Name Fields